Sabtu ritu aku tengok wayang dengan husben. Aku merengek dengan dia nak tengok citer The Purge. Seriously aku tak tahu menahu pun pasal citer ni. Tapi nak tahu kenapa aku nak merengek nak tengok sangat...
.
.
.
.
.
.
.
.
.
.
.
.
.
.
.
.
.
.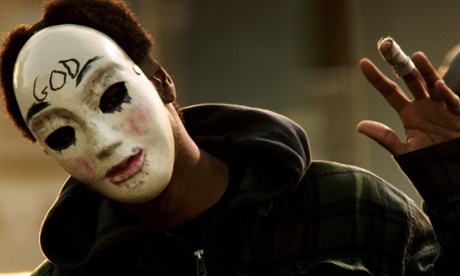 Sebab gambar poster dia kat surat khabar sangat menarik perhatian aku. Dan kata kata dia "Welcome To America Where One Night A Year All Crime Is Legal" - setiap tahun akan ada 1 malam yang membenarkn jenayah berlaku- membuatkan aku merengek-rengek nak tengok. Firstly citer ni punya tajuk, aku ingat kan, samseng akan merompak. Tapi sangkaan aku meleset. Dimana ni adalah cara mereka membuat PENYINGKIRAN terhadap golongan miskin. Patut lah, awal cerita dia cakap, golongan miskin ditahap minimum.
Malam tu akan diraihkan oleh golongan kaya dengan membunuh golongan miskin. Macam dalam gambar bawah ni. Tapi yang ni dibayar. Lelaki tu pun sukarela.
Yang ni plak geng yang akan tangkap siapa yang dia nak kemudian jual kepada yang perlukan korban demi malam yang tak masuk akal tu. Seram kott tengok dia bertopeng macam tu ! Nasib baik Malaysia tak ada pemimpin yang gila macam dalam cerita ni.